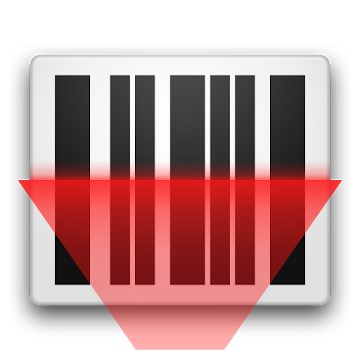 [ratings]
Android App Labs Rating
4.20/5
| | |
| --- | --- |
| Android App: | Barcode Scanner v3.1 |
| Developer: | ZXing Team |
| Price: | Free |
| Package name: | com.google.zxing.client.android |
Scan barcodes on CDs, books, and other products, then look up prices and reviews, or search for a word in a book and find where it occurs. You can also scan QR Codes containing URLs, contact info, calendar events, and more.

Android App Labs Review
| | |
| --- | --- |
| Review Device: | Motorola Droid |
| Firmware: | Google Android version 2.0.1 |
| Carrier: | Verizon |
Barcode scanner is a simple app which allows the use of the camera on an Android mobile device to scan bar codes to determine the information encoded therein.
With good lighting and a fairly steady hand Barcode Scanner is effective at reading UPC codes from a product or it's packaging.
Once it recognizes the code it will prompt you to either do a product search or to search the web.
The product search opens the browser and checks Google Shopping for the UPC code and returns the results. The Web Search option opens the browser and checks the Web with Google for the UPC code and returns those results.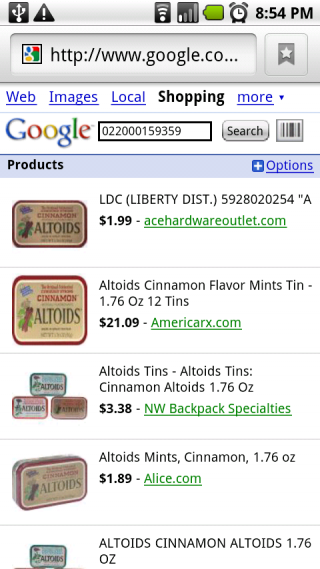 Barcode Scanner also works on 2D QR codes. It does an excellent job at reading the codes off of a computer monitor.
Barcode Scanner will then prompt you to be taken directly to the web page encoded in the QR code or to share it via email or SMS.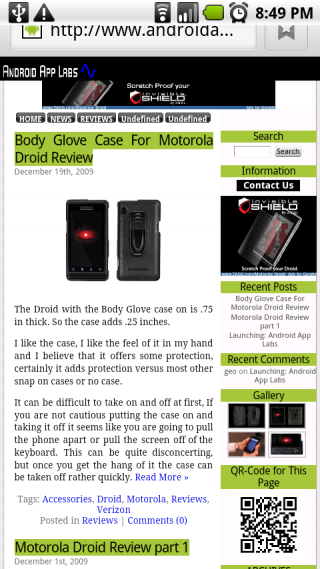 Conclusion:
Barcode scanner is a simple and effective app and is a must have on your Android phone. In addition to the above mentioned functions it is capable of reading bar codes and revealing anything else that is encoded in them. This may included business card information or hidden messages in a barcode on a t-shirt or in the form of a tattoo. With Barcode Scanner on your Android mobile device you may get the chance to let your friend know that his barcode tattoo actually represents the code for "obnoxious fool" instead of "Peace and Harmony"
Download to your Android phone from Android Market: