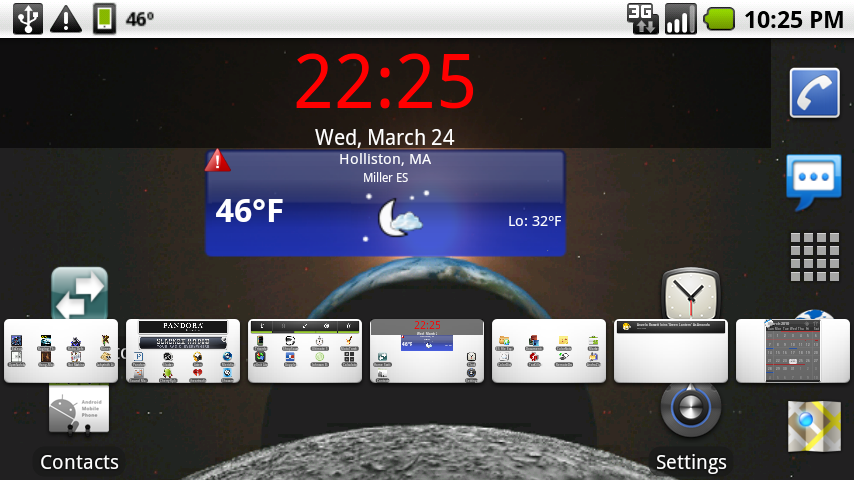 [ratings]
Android App Lab's Rating
4.60/5
| | |
| --- | --- |
| Android App: | Helix Launcher |
| Developer: | Faruq Rasid |
| Price: | Free/Donate |
| Package name: | com.com.helixproject.launcher |
HelixLauncher is based on android Launcher git and is heavily modified to resemble Launcher2 mod.
HelixLauncher features:
* Should support hdpi & mdpi resolutions (not fully tested)
* Sense UI-like scrolling / Velocity Scrolling
* Double Tap action for Screen Previews
* Full-screen app menu (with notification bar still)
* Quick Shortcuts! – Drag & Drop and shortcuts to the QuickBar
Helix Launcher Developer page at XDA-Developers

Download to your Android phone from Android Market:

Android App Labs Review
QUICK ANALYSIS
Fast, up to 7 screens, full portrait and landscape support, don't need to be rooted, stable.
Need to use back button to exit app list.
Great launcher, stable and gives you a lot more screen real estate for apps and widgets. Get it now.
Detailed Analysis:
| | |
| --- | --- |
| Review Device: | Motorola Droid |
| Firmware: | Google Android version 2.0.1 |
| Carrier: | Verizon |
Helix Launcher is an excellent home screen replacement and replacement launcher. It provides up to 7 screens to add apps and widgets to. Up to 4 apps or shortcuts can be placed on the bottom of the screen next to the launch button and they will become persistent across all your screens. This is great for the most important and constantly used apps.
Helix Launcher works smoothly and is very fast. It is superior to the stock launcher in speed, consistency and that it has full landscape support. It works just as smoothly in landscape mode as in portrait mode. I have not experienced any forced closes yet, as usual YMMV.
Upon a double-tap, an index of thumbnails is displayed showing all your screens. Even with 7 screens, any screen is only a double-tap and a press away.
The only problem I found was that the only way to close the app drawer was to use the back button. I did not find this to be a big deal and I believe this is being changed for future versions.
Conclusion:
Helix Launcher is a great home screen replacement and launcher. If you find you need or want some extra screen go ahead and install it now. Highly recommended!
Screen Captures from Motorola Droid:
[nggallery id=21 template=captport]
Screen Captures (Landscape) from Motorola Droid:
[nggallery id=22 template=captland]